1946
OLIVOTTO company was founded in 1946 by Dott. Olivotto as supplier of spare parts and services to machines for the production of glass bulbs in Italy. Few years later Olivotto company began the manufacturing of its first rotary-type glass blowing machine for lighting wares production. From that time, Olivotto company history as machineries manufacturer begun.
2003

OLIVOTTO acquired the glass branch of Antas (Italy), a company with long-standing traditions and experience in the service of the hollow glass industry.
2007

OLIVOTTO acquired the assets of Lynch Systems (USA), a corporation that traces its roots back to 1914, one of the oldest hollow glass forming machines manufacturer in the world.
On the same year we established company Olimerk Makina. A sister company, part of Hollow Glass division, dedicated to production services, design and marketing of molds and production equipments.
2008

OLIVOTTO acquired the assets of Lindner Maschinen (Germany) a very well known company with large experience for high quality production machines in all types of glass (lead crystal, soda-lime, borosilicate). As a result, Olivotto, Antas, Lynch Systems and Lindner Maschinen, leaders in their respective market sectors, forces and combine their capabilities to become the benchmark in the international scenario of hollow glass manufacturing plants, systems and machines, all joint in OLIVOTTO GLASS TECHNOLOGIES.

2014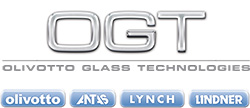 Starting from the beginning of 2014, Olivotto Glass Technologies (OGT) is active in the Mineral Wools field, as supplier of complete manufacturing plants for Glass and Rock Wools production lines.
This was possible thanks to a technological agreement of cooperation with an Italian engineering company with long experience in designing machines and equipments for the mineral wools industry (Glass and Rock wools).
2021
The Energy Transition is a pathway toward transformation of the global energy sector from fossil-based to zero-carbon by the second half of this century. The future belongs to the sustainable energies and everyone is aware of this, within one year the demand of solar energy for real estate applications almost doubles.
With the conviction of the results and with our characteristic "Innovation attitude" we continue to extend our horizons. So we decided to apply our skills in a new one "SOLAR" Business Unit dedicated to the design of the most innovative technological applications a support of the entire photovoltaic chain.
OGT, therfore, organizes its activities through 4 Business Unit:
HOLLOW GLASS
PHARMA PACKAGING
MINERAL WOOLS
SOLAR